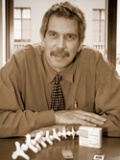 David Rejeski
Director
David Rejeski directs the Science and Technology Innovation Program (STIP) at the Woodrow Wilson International Center for Scholars. STIP focuses on emerging technologies and the critical choices rapid scientific innovation presents to public policy, including synthetic biology, nanotechnology, participatory technology assessment, geo-engineering, and the application of information technologies, computer games, and social media to public policy challenges.
David is presently a visiting scholar at the Environmental Law Institute and was a visiting fellow at Yale University's School of Forestry and Environmental Studies. Between 1994 and 2000, he worked at the White House Council on Environmental Quality and the Office of Science and Technology (OSTP) on a variety of technology, R&D, and policy initiatives. Before moving to OSTP, he was head of the Future Studies Unit at the Environmental Protection Agency (EPA) and, prior to that, worked in Germany and founded a non-profit involved in energy conservation and renewable energy technologies. He has written extensively on science, technology, and policy issues and is the co-editor of a recent book on environmentalism and future technologies.
David sits on the advisory boards of a number of organizations, including the Board on Global Science and Technology at the National Academy of Sciences; the "Living Foundries" program at the Defense Advanced Research Projects Agency; the Advisory Committee on Environmental Research and Education at the National Science Foundation (NSF); the NSF-funded Synthetic Biology Engineering Research Center; the Committee on Science, Engineering and Public Policy at the American Association for the Advancement of Science; the Center for Environmental Policy at American University; the National Council of Advisors for the Center for the Study of the Presidency; the Journal of Industrial Ecology; and Games for Change.
Between 2004 and 2009, David was a member of EPA's Science Advisory Board and he has served on EPA's Board of Scientific Counselors. He has graduate degrees in public administration and environmental design from Harvard University and Yale University and a degree in industrial design from the Rhode Island School of Design.