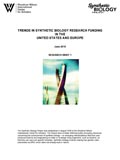 June 4, 2010
Trends in Synthetic Biology Research Funding in the United States and Europe
A new analysis by the Synthetic Biology Project at the Woodrow Wilson Center found that the U.S. government has spent around $430 million on research related to synthetic biology since 2005, with the Department of Energy funding a majority of the research. By comparison, the analysis indicated that the European Union and three individual European countries – the Netherlands, United Kingdom, and Germany – had spent approximately $160 million during that same period.
Approximately 4 percent of the U.S. funding and 2 percent of the European funding was being spent to explore ethical, legal, and social implications of synthetic biology. The analysis uncovered no projects dedicated to risk assessment.
Download the Research Brief.
Download Appendix A.